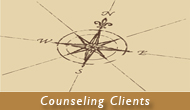 With technology and the economy driving so many industries and forever changing the way we do business, it's no wonder choosing or changing careers has become a primary concern for so many young adults.  A career changer herself, Dr. Cusumano works with high school students, college grads, and adults in career flux to identify the careers that are uniquely suited to their interests, skills and lifestyle choices and helps clients develop a workable and realistic action plan to pursue those careers.
As a college educator with degrees in both counseling and higher education, Dr. Cusumano has a unique understanding of and appreciation for the traditional and non-traditional learner.  Her approach to counseling clients of all ages is to initiate honest dialogues about who they are today, where they'd like to be tomorrow, and the best possible ways to get there given their current circumstances.
High School Students Counseling Services include: skills & interest assessments; college selection and major advisement, and admissions packaging services (help with essay, marketing supplements, portfolios).
College Grads & Career Changers: Skills, personality and values inventories, lifestyle intake and evaluation, career and industry research, action plan, resumes, cover letters and interviewing skills.
Individual appointments with customized and personal plans. Group seminars available. Dates TBD.